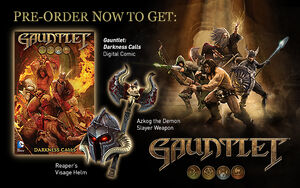 For ages, fool-hardy adventurers have been lured by promises of countless treasures in the depths of the Gauntlet, yet none have ever made it out alive. The corrupt wizard Morak conjures minions and devious traps against would-be champions and taunts them all along the way. But a new group of heroes looks to succeed where all others have failed.
Warrior, Valkyrie, Wizard, and Elf – each has their own reason for entering the Gauntlet but all four are bound together for one goal: to survive the Gauntlet and claim the ultimate prize!
Story
Hordes of monsters, powerful bosses, devious traps and even Death itself stand in between you and claiming the Gauntlet's treasures. But your biggest challenge may come from the allies who stand beside you as the heroes are competing for the riches found within.
Characters
Features
New Gauntlet Experience: Classic dungeon crawling action is melded with innovative new features for the ultimate Gauntlet challenge.
Online and Couch Co-op Multiplayer: Explore on your own if you dare or play with friends in 4-player same-screen and online co-op. Your friends can become foes as you compete to see who can claim the most kills and the most gold.
Four Classic Characters: Gauntlet's four classic characters: Warrior, Valkyrie, Elf, and Wizard return but with more distinctive play styles and their own unique skills.
Discover New Powers: Players can scour the dungeons for gold and loot to unlock mystical Relics that grant the holder deadly new abilities. But beware – if used incorrectly they can be detrimental to your party's health!
Relics
Try to turn the odds in your favor by equipping yourself with powerful relics found within the Gauntlet. Will these magical Relics protect you and your party from danger or will they just get you into even more trouble?
Media
Images
Videos
External links
Community content is available under
CC-BY-SA
unless otherwise noted.