GLPS is the Sony Playstation console port of Gauntlet Legends. It was ported and published by Midway as the others were. It was the first console port of the game, followed up by GLDC and GL64. It was released in February 2000.
Gameplay
GLPS is often criticized for its extreme diversity from the original arcade version. Most of the levels have been down-sized, many objects features buggy physics, and lack of four-player cooperative gave the port a relatively bad ratings.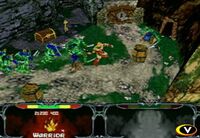 The game includes new features such as the first inventory system, new Realms, and extensive cheat codes. This is also the first Gauntlet game to feature Sumner's tower and his shop. The player no longer has to complete a level in order to buy items and powerups, which are now saved in the inventory to be saved and used for later. This feature was passed down to GL64 and Gauntlet Dark Legacy.

The player starts at the first two Realms, the Mountain Kingdom and Castle Stronghold, followed by the two new worlds: the Forsaken Province and Ice Domain. Two levels from the Desert Lands and the Forest Realm can be unlocked as a bonus for completing the game.
Trivia
Nicknames (as seen in the credits) of the developers can be entered as cheat codes at the character select screen.
This is the first Gauntlet game to feature the Battlefield.
The sound test menu includes the music for Acid Swamp, however this level does not appear in the game.
See also
Community content is available under
CC-BY-SA
unless otherwise noted.