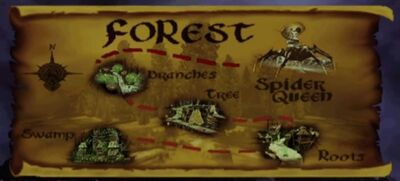 The Forest Realm
is a dark land, inhabited by both lowland swamps and high tree camps. It's home to the
Spider Queen
and is the native
realm
of the
Archer
. According to the game manual, The Forest is the oldest of the eight Realms. The Forest Realm appears in the Arcade and DreamCast version of
Gauntlet: Legends
and in
Gauntlet: Dark Legacy
.
An area called the Forest Kingdom appears in Gauntlet III: The Final Quest as one of the kingdoms on the island known as Capra. It was founded by the tree dwellers, and was also inhabited by the Emerald Crawlers and Killer Plants.
Gauntlet: Legends
The Forest Realm is the last of four realms in the DreamCast version of Gauntlet: Legends. It is only accessible through activating the three obelisks in the Desert Lands.
Areas
Gauntlet: Dark Legacy
The Forest Realm is the third and final realm of the West Wing and the fifth realm all together; accessible by collecting all twelve Golden Snake Fangs from the Forsaken Province and Mountain Kingdom, and by collecting at least 175 green crystals.
Areas
Enemies
Community content is available under
CC-BY-SA
unless otherwise noted.