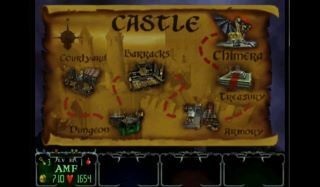 The Castle Stronghold is a fierce part of the Realms, where the Valkyrie hails from; indeed, it's also known as the Valkyrie's Castle. This Realm consists of sections of a large castle, and heroes will find themselves traveling through the courtyard, internal hallways, barracks, armory, and treasury, all in an attempt to reach the top and do battle with the Chimera on the roof.
Appearances
There are 2 Obelisks in this Realm, 3 Runestones, the Treasure Room to unlock the Falconess, and the Legendary Weapon is the Ice Axe of Untar.
Areas
Enemies
---
125 purple Crystals must be gathered before entering this realm.
Areas
Enemies